Making the most of your space or moving your boat easily? Then the SB-LINER is the solution for you! With a wide range, PEGA has bucks in all sizes, shapes and weight classes. A trestle for your showroom on wheels or stacking trestles for an efficient layout of your space.
Do you think the SB-LINER is the solution for you?
Always discuss with your dealer all the possibilities of making the PEGA SB-LINER suitable for your boat!
Showroom trestles are specially designed support trestles for boats used for exhibitions in showrooms. They provide safe and stable support for boats during presentations in showrooms, ensuring optimal presentation and viewing from all angles and perspectives. Our showroom trestles are available in different sizes and weight capacities, depending on the size and weight of the boats to be supported.
They are made of durable materials such as steel or aluminium and are designed to ensure long-term and reliable use. The showroom trestles can be fitted with upholstered girders in the case of motorboats or support cushions in the case of sloop or sailboats.
Efficient use of your space
Stacking trestles are indispensable when storing and transporting heavy objects such as boats and yachts. The lower stacking barge can carry a maximum load of 4,500 kg and are equipped with infinitely adjustable support pads and round stacking posts, making them easy to use. In addition, the cushions protect the hull of your vessel from damage during transport and storage.
In addition, it is important to note that storage bays are designed based on indoor storage.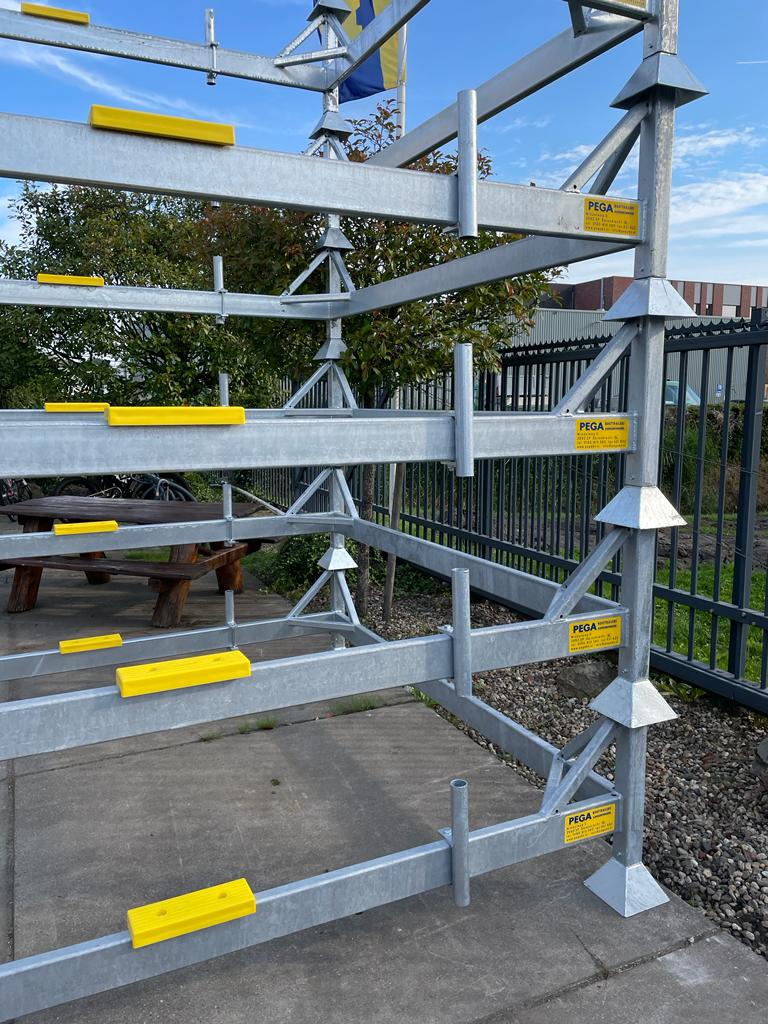 Adjusting stacking trestles can sometimes be a challenging job, especially if you are working with different sized boats or craft. Fortunately, stacking trestles at PEGA come with demountable posts and infinitely adjustable support pads, making adjustment a breeze. Moreover, these stacking trestles are easy to assemble and disassemble, making them particularly suitable for summer storage. Their compact size means they take up little space, saving you time and money when storing your craft during the summer months!
Easy stacking
The use of so-called 'pods' allows you to easily stack the trestles. Comfort and functionality, that's what PEGA stands for!